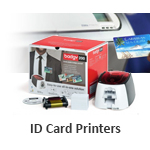 ID Cards nowadays are commonly being used around the world. We hold them in the form of Employee ID Badges, Student ID Cards, membership cards etc. By witnessing the need for these cards everywhere, devices which can print it flawlessly have also gained the importance. Specially designed ID Card Printers are available in the market to meet the need of printing at corporate sectors. DubaiMachines.com offers you ID Card Printers embedded with the most pre-eminent and state of the art technology with delivery at your doorstep.
Datacard| Evolis| Fargo| Zebra

Call Our Experts @ +971-4-3360300 and we will ensure your technical and pricing requirements are taken care of. Alternately you can also Leave a Message & We will call you back in a jiffy.